Regular news: Issue 594 13 Apr 2012

Share this article:
Green bus fund brings big boost to hybrid sales for Volvo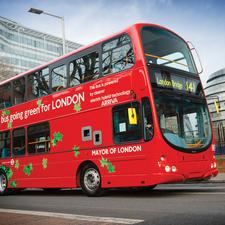 The Arriva Volvo B5L hybrid
Volvo Bus UK has won orders for 174 new hybrid electric buses as part of the Green Bus fund for England, including its single largest ever hybrid order of 77 double-deck buses for Arriva.
Volvo's orders represent a large chunk of the 439 new low-carbon buses that the Department for Transport says will be delivered under its latest £31m Green Bus Fund allocation announced last month to 26 bus companies and five local transport authorities (LTT 30 Mar).
"By the end of last year we had 100 Volvo hybrid-powered double deckers in operation throughout the UK," said Steve Dewhurst, managing director of Volvo Bus UK and Ireland. "They are not only proving to be extremely reliable, but also highly fuel efficient."
"These orders mark a high level of confidence from a number of our major customers, further establishing our market leading position in hybrid technology. The Government's continued support through the Green Bus Fund is welcomed and is a much needed boost to our industry."
Of the 174 hybrid vehicles ordered, 145 are Volvo B5LH hybrid double deckers featuring the Wrightbus Gemini 2 bodywork. In addition to the Arriva order, significant other orders are as follows: Go Ahead have ordered 45, National Express have ordered nine, Rotala eight and Ensign Bus six.
The Arriva order complements the 46 hybrids already in operation with the company, taking their hybrid fleet to 123 Volvo B5LHs. Similarly, Go Ahead, which already successfully operates 15 hybrid double decks, will increase their hybrid fleet to 60. By taking an additional nine, National Express is doubling its Volvo hybrid fleet.
First Group has ordered 29 Volvo 7900 hybrids, designed and built totally within the Volvo Group.
Managing the hybrid-electric system prioritises fuel efficiency, significantly reducing emissions of carbon dioxide. At the same time, the range of gear ratios in the transmission means that the diesel engine can operate in its most efficient range.
"In operation Volvo hybrids are returning 30-40% better fuel figures when compared to diesel buses operating on the same routes," explained Phil Owen, Volvo Bus UK sales director. "The level of air quality improvements include a 45% lower NOx per kilometre, giving up to a 40 tonne carbon dioxide reduction per bus, each year.
"With spiralling fuel costs and even tougher emission regulations, hybrids offer a cleaner, quieter and economical transport solution for our towns and cities."
Volvo will be presenting details of their hybrid bus projects at the Electric Futures conference on April 27th.