Regular news: Issue 592 16 Mar 2012

Share this article:
Shift to resurfacing work in annual repairs survey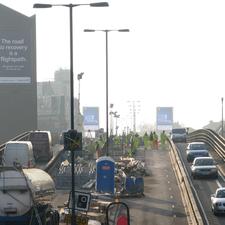 The repair of Londons Hammersmith flyover will be completed "well ahead" of the Olympic Games, Transport for London has said. Hydro-demolition and diamond cutting have removed 140 tonnes of concrete in order to install new tensioning cables while traffic continues to use the structure.
An increase in planned carriageway maintenance and decrease in pothole repairs is revealed by the annual survey by the Asphalt Industry Association.
The proportion of local authorities' highways budgets spent on carriageway repairs rose from 47% in the 2011 survey to 48% in England in the latest survey; from 46% to 52% in London and from 32% to 40% in Wales.
There was a corresponding fall in spending on reactive maintenance from 27% to 23% in England, although local authorities acknowledged that 14% was the ideal proportion.
The average number of potholes filled by authorities in England and Wales was reduced by 21% on the previous year, but remains 27% more than the number two years previously.
The Asphalt Industry Alliance report said that filling 1.7 million potholes was "a ridiculous waste of public resource". The majority of local highway authority respondents said that having five years of funding confirmed would allow more efficient planning of preventative maintenance.
A DfT working group formed to consider changes to highway maintenance block funding has recommended that the allocations for 2013/14 and 2014/15 are confirmed as soon as possible.