Regular news: Issue 589 3 Feb 2012

Share this article:
Baker opens first private DC charging point for electric vehicles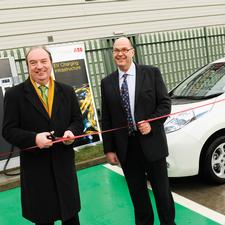 The privately-owned DC charging point in Retford will be able to charge an EV in half an hour
The UK's first privately-owned direct current (DC) rapid-charging station for electric vehicles has been opened in Nottinghamshire by transport minister Norman Baker. The publicly-available station, which can recharge an electric vehicle battery in 30 minutes, has been installed at the headquarters of family-run printing company RCS in Retford, five miles from the A1. It was bought by RCS with financial support from the Government-backed Plugged-in Places project being delivered by Cenex (the UK's first Centre for Excellence for Low Carbon and Fuel Cell technologies) and Central Technology Belt (a non-profit organisation established "to harness and build on the skilled workforce and intellectual creativity between Birmingham and Worcestershire to deliver economic transformation").
LTT's holding it's Electric Futures event on the 1st March 2012.