Events & Services : Event : Time for 20mph

Conference
Location:
Camden Town Hall
London
Phone:
020 7091 7865
Fax:
020 7091 7966
Email:
Send Email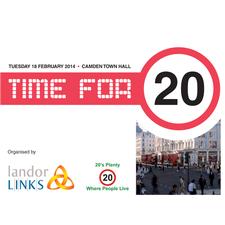 Time for 20mph
20's Plenty for Us National Conference
18 Feb 2014
** Last chance to book **
The 5th 20mph conference focuses on how to roll out 20mph limits.
Includes presentations, expert cases studies and workshops of implementations to improve the public realm, create healthy lifestyles, promote everyday exercise and reduce casualties. Learn the lessons from leading authorities, of how to get it right.
It's "Time for 20" with many places around the UK now choosing over 90% of roads to go 20mph. It's time to modernise signage rules to help the transition to 20mph limits cost effectively.
Signing exceptions to 20mph makes sense since 20mph is becoming the new default urban and residential limit. This would cuts costs by 50%.
Who should attend?
Public health officers
Highways officers
Transport planners
Local councillors
Key service providers
Police
Campaigners
Rod King, Campaign Director of 20's Plenty for Us said:-
"We now have some of the largest local authorities and most iconic cities setting 20mph limits for most urban and residential roads. With 20% of the population now living in such 20mph places, it's time to recognise we are transitioning to a new urban realm where 20's plenty. This conference looks at current best practice and considers how to move towards a planned national adoption of a 20mph limit for most residential and urban roads."
---

Presentations include:
National policy on 20mph limits, a pre-recorded interview with Rod King, Founder 20's Plenty for Us
Robert Goodwill - Under Secretary of State for Transport

How traffic signage regulation changes will affect the need for repeater signs
Graham Hanson, Head of traffic signs policy, DfT

Total 20 for Camden – implementation of 20mph in an inner London borough
Cllr. Phil Jones, London Borough of Camden

The views of the Local Authority Technical Advisers Group on 'Time for 20'
Iain Simmons, Head of Transportation for City of London, Chair of Group 1, London Technical Advisors Group

Time for 20 to anticipate move to 20mph national limit and transition
Rod King MBE, Founder and Campaign Director, 20's Plenty for Us

The Wider European perspective
Luana Bidasca, Policy Officer, European Transport Safety Council (ETSC), Author of the Speed Monitor

The impacts of 20mph on Public Health
Dr. Nick Cavill, author of Active Travel Briefing for Public Health England. (invited)

Case Studies include:
Implementation in Bath and North East Somerset
Cllr. Roger Symonds, Bath and North East Somerset Council (invited)

Implementation in Cambridge
Andrew Preston, Project Delivery and Environment Manager, Cambridge City Council

The opportunities for community speedwatch programs enhancing 20mph complianc
Allan Freinkel, CEO, Startraq

Workshops include:
Stakeholder and Public Engagement
Anna Semlyen, Campaign Manager, 20's Plenty for Us

Child's Play
Alice Ferguson, Managing Director, Playing Out

Delivering 20mph in London
Jeremy Leach, London Campaign Coordinator, 20's Plenty for Us
*Includes the presentation of 20's Plenty for Us campaigner of the year award!
---

Delegate Rates
| | | |
| --- | --- | --- |
| | Early Booking Discount | Delegate Rates |
| Private Sector First Delegate | £199 + VAT | £249 + VAT |
| Private Sector Additional Delegates | – | £125+ VAT |
| Public Sector First Delegate | £125 + VAT | £225 + VAT |
| Public Sector Additional Delegates | – | £125 + VAT |