Events & Services : Event : European Transport Conference 2012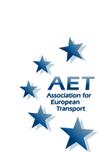 Conference
Location:
Congress Road, Glasgow, G3 8QT
Glasgow
Email:
Send Email
Website:
Visit Website
European Transport Conference 2012
8 Oct 2012 to 10 Oct 2012
** Last chance to book **
European Transport Conference 2012
8-10 October 2012, Crowne Plaza, Glasgow, Scotland, UK.

The demands on Europe's transport systems continue to both increase and change as a result of a number of factors. Such change demands innovative and practical responses. As transport practitioners and researchers throughout Europe respond to the challenges of economic decline and growth, social change, demographics and the need to become more sustainable, the European Transport Conference is the forum for the presentation of and discussion on robust and affordable responses.

For those involved in transport planning, research and practice, 2012 will prove to be yet another challenge to their skills. Transport plays a key role in regeneration and there will be particular pressure to produce innovative and cost-effective solutions to congestion, safety and travel behaviour change at a time of major budget constraint. ETC 2012 will focus on the needs of all those who are attempting to come up with practical answers based on experience throughout Europe.

Celebrating its 40th anniversary this year, the Conference is unique in Europe, attracting around 400 transport practitioners and researchers to an event where they can find in-depth presentations on policy issues, best practice and research findings across a broad spectrum of transport modes.

Transferring Knowledge between Research and Practice the range of topics and the multi-seminar approach makes ETC unique among transport conferences held in Europe. The Conference programme covers supranational issues, national and local policy, and the implementation of projects at a local level. Issues of key importance are picked out each year for special examination and will be introduced in daily plenary sessions.

Who should attend?
- Policy-makers, transport planners and engineers from central and local government
- Providers of technical advice and consultancy
- Researchers, lecturers and students from universities, institutes and research bodies
- Analysts and advisers from banking and investment houses
- Environmentalists and lobbyists


Special Features
Daily plenary sessions will be delivered on key topics, with keynotes given by significant names in world transport:
- Delivering Transport for the London Olympics
- Development of alternative energy sources for vehicles
- Innovation in Survey Design Strategies for the Transport Industry

Other key features include:
- Presentations of over 250 papers
- Civic Reception (hosted by the City of Glasgow)
- Conference Dinner
- Welcome reception for First Time attendees
- Over 30 countries represented
- Technical Visits

For instructions on how to book your place, please visit our website www.aetransport.org or contact Sabrina Ayadassen by email at sabrina@aetransport.org