Event/Conferences : Conference
Bringing forward BRT | Additional Delegate, NO Hotel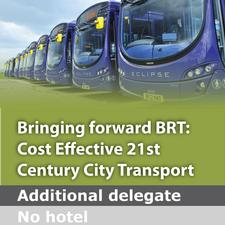 1-2 Oct 2012 | Southampton

By Landor LINKS
£255.00 +VAT in stock
UK Delivery included


There is fresh interest in BRT in the UK with the success of recently opened schemes, and a growing list of towns and cities are bringing forward schemes of their own.

This event brings together the practical experience of how to deliver the right sort of BRT schemes for any location more cost effectively, and case studies from the UK and abroad.

2-day conference held at the Marriott Meon Valley Hotel, Southampton.
Sponsored by Bam Nuttall, VIX and supported by ATKINS, Parsons Brinckerhoff and Scania.
National & international experience

Study Tour: South East Hampshire Eclipse BRT

UK scheme promoters – progress forum

Networking dinner
This ticket, when accompanied by a 'First Delegate', includes full entry to both days and the networking dinner, excluding an overnight stay. You will need to source alternative accommodation arrangements.