Event/Conferences : Conference
Open Data, Cities & Transport | First Delegate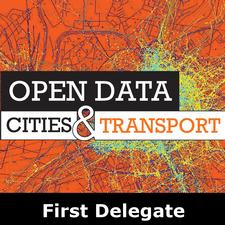 By booking a place at the Open Data, Cities & Transport event, you are eligible to bring additional delegates for just £175 + VAT each
The confirmation email following a credit/debit card purchase is your ticket to this event.
All fees are payable in advance of the event. Delegates may be refused admission if payment is not received prior to the event.
If for any reason you are unable to attend, cancellations received in writing by 13/06/12 will receive a refund less an administrative charge of £100 + VAT. There will be no refunds for cancellations made after this date. Applicable promocodes must be redeemed at time of purchase. *Promocodes must be redeemed at time of purchase. They cannot be applied to an order after an invoice has been generated or a credit/debit card processed.
27 June 2012 | Manchester Town Hall

By Landor LINKS
£245.00 +VAT in stock
UK Delivery included


This event will interest all those who are addressing the issue around open data and transport.

It will bring together transport & urban policy makers, network operators, data owners and data users including information service providers and application developers.

Case studies and presentations including:

What you can stop doing (because the data community already do it)

Aggregated data

Value in procurement

Data benefits for integrated transport systems

Using data to unlock funding

Location intelligence

View the programme and find out more