Event/Conferences : Conference
Parking & Property 2012 | Additional Delegate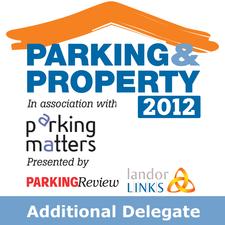 The confirmation email following a credit/debit card purchase is your ticket to this event.
All fees are payable in advance of the event. Delegates may be refused admission if payment is not received prior to the event.
If for any reason you are unable to attend, cancellations received in writing by 08/05/12 will receive a refund less an administrative charge of £100 + VAT. There will be no refunds for cancellations made after this date. Applicable promocodes must be redeemed at time of purchase.
22 May 2012 | London

By
£149.00 +VAT in stock
UK Delivery included


Car parks are vital gateways to destinations such as town centres, shopping centres, airports, rail stations and hospitals. They are also important assets which can either be offered as a free service or generate significant incomes in their own right. However, they also need to be maintained, refurbished and, eventually, replaced.

Parking & Property is an annual event dedicated to off-street parking. It is a forum for public and private sector car park owners and operators, developers, planners and companies supplying design and equipment services.