Bus News Lead Story: Issue 362 15 May 2009
Share this article:
OFT Eastbourne referal met by disappointment from Stagecoach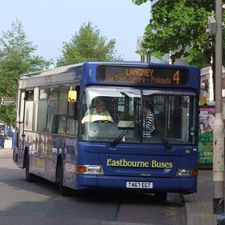 Stagecoach acquired Eastbourne Buses last year
Andrew Garnett
The Office of Fair Trading has announced that it is to refer the acquisition of council-owned bus operator Eastbourne Buses and local independent Cavendish Motor Services by Stagecoach earlier this year to the Competition Commission.
The move comes just days after the OFT's call for written comments on its decision to launch a market study into the supply of local bus services closed (Transit March 6).
In a statement, the OFT said that the acquisitions had resulted in Stagecoach...