Rail News Lead Story: Issue 361 1 May 2009
Share this article:
More articles like this...
Frachising, Performance, Rail, DfT/SRA, Go Ahead, Govia, Other, Siemens, Greater London, Northwest England, South of England, West Midlands
London Midland punctuality is personal mission for Ludeman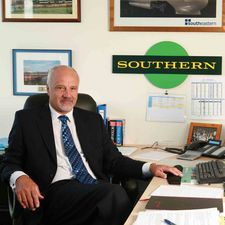 Ludeman is demanding daily updates from the London Midland team
James Dark
Go Ahead Group chief executive Keith Ludeman is demanding daily updates from his London Midland management team on their efforts to restore punctuality to acceptable levels following the introduction of the company's new timetable in December.
The new timetable coincided with a considerable drop in punctuality with 82% of trains arriving on time in January and February compared to close to 90% in the first two months of last year. Punctuality at London Midland improved in March to 88%,...