Rail News Lead Story: Issue 359 3 Apr 2009
Share this article:
Network Rail commits to create more service-orientated culture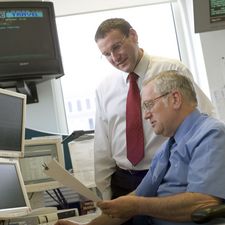 Network Rail control centre staff
James Dark
Network Rail has set out a commitment to overhaul the way it operates in order to radically improve the quality of service it provides to train operators and passengers.
The company's Transformation Programme is outlined in its first five-year delivery plan which acknowledges that it is not meeting its customers' requirements and sets out a far reaching culture change agenda. Shortcomings which Network Rail pledges to put right include failure to work closely enough with operators...