Bus News Lead Story: Issue 351 5 Dec 2008
Share this article:
Bus operators express anger at fuel duty rise and BSOG changes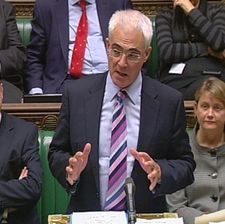 Darling announces his Pre-Budget Report in the Commons. Operators are angry at increases in fuel duty
By Andrew Garnett
Bus operators have reacted with anger to chancellor Alistair Darling's Pre-Budget Report which revealed increases to fuel duty and plans to reform the way the Bus Service Operator's Grant is distributed to them.
Although the chancellor cut VAT from 17.5% to 15%, this has been offset by an increase in fuel duty from this week by 2p a litre. Darling also announced further increases with a 1.84p per litre rise next April and a further 0.5p increase in April 2010.
Operators have...