Lead Story: Issue 328 7 Jul 2008
Share this article:
TOCs fear shaken Network Rail could hinder industry's progress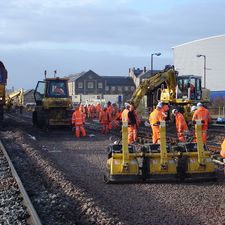 Could what happened over New Year cause delays to vital renewal work?
By James Dark
Train operators are starting to express concern that Network Rail could suffer a loss of confidence similar to the paralysis that afflicted Railtrack after the Hatfield crash, following the chaos surrounding the company's New Year engineering projects.
The fears surfaced at an industry meeting held by the Office of Rail Regulation last week which was dominated by discussion of Network Rail's high profile mismanagement of schemes at Rugby, Liverpool Street and Glasgow, and the...