British Parking Awards Lead Story: Issue 241 5 Apr 2012

Share this article:
British Parking Awards 2012: The winners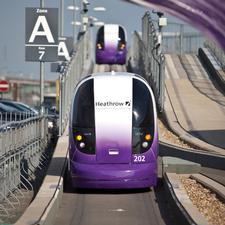 The Global Ultra Pod system at Heathrow was named overall winner
People parking at Heathrow Airport's Terminal 5 business car park can now experience an innovative mode of travel. Driverless shuttle pods glide past and above obstacles to deliver passengers at the massive Terminal 5 complex.
This is a technology that could be called futuristic, but it is working now. The Ultra Global PRT system so impressed the judges of the British Parking Awards 2012 that it went away with three trophies – Innovation, Environment and the Equita Overall Award Winner.
www.britishparkingawards.co.uk
2012 award winners
Equita Overall Winner
Heathrow Ultra Global PRT & BAA
Outstanding Contribution to the Parking Sector
Jane Hack, director of membership, British Parking Association
Best New Car Park
Sponsored by SIX Card Solutions
Millennium Point MSCP, Birmingham: Thomas Vale Construction, Birmingham City Council and Urban Design
Best Car Park Refurbishment
Barracks MSCP, Coventry: Makers Construction and Coventry City Council
Digital Parking Award
Driving app usage: The RingGo Experience - Cobalt Telephone Technologies
Parking and the Environment Award
Sponsored by Imperial Civil Enforcement Solutions
Heathrow pods: Ultra Global PRT & BAA
Parking Partnerships Award
Essex Parking Partnership: North Essex Parking Partnership, South Essex Parking Partnership & Essex County Council
Parking in the Community Award
Sponsored by APCOA Parking (UK)
Future Clean Exeter: Exeter City Council and Pluss
Parking Person of the Year
Sponsored by RingGo
Andy Cameron, BAA car park manager, Heathrow Airport
Young Parking Professional Award
James Adlem, policy & development officer, Brighton & Hove City Council
Parking Team of the Year
Sponsored by BemroseBooth Mobile
South East Parking Group
Enforcement Award
Shropshire Parking Enforcement: Shropshire Council
Exceptional Customer Service Award
Sponsored by Alpha Parking
Excellence in Ealing: Ealing Council
Innovation Award
Sponsored by ACS, a Xerox Company
Heathrow pods: Ultra Global PRT & BAA
Parkopedia.com