Regular news: Issue 600 6 Jul 2012

Share this article:
'High prices' hold back preventative repairs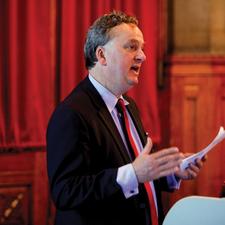 Howard Robinson: talk to us
A DfT-backed drive for more preventative maintenance to be carried out is being hit by "high prices" for resurfacing materials, the conference heard.
Richard Goodwin, technical director at the Urban Vision joint venture in Salford, claimed that the "high prices for surfacing materials is negating the benefits of using them". Howard Robinson, chief executive of the Road Surface Treatments Association, said in response that falling demand in recent years was a factor in rising costs. The surface dressing market, now worth £60m a year, was 40% bigger 15 years ago, according to Robinson.
He was, however, expecting growth in the market in the coming years. The DfT Pothole Review recommended that a greater slice of budgets is dedicated to preventative maintenance treatments to prevent potholes from forming. To monitor this, the RSTA?and the Asphalt Industry Alliance have been tasked by the DfT-backed Highways Maintenance Efficiency Programme with reporting on the tonnages of materials ordered by the industry each year (LTT 22 Jun).
Robinson highlighted that there were alternative preventative treatments available to prevent defects from forming. "There are lots of other techniques other than surface dressing," he said. He urged highway authorities and service providers to "please talk to us" rather than simply placing orders with suppliers for materials once decisions have already been made.
"Contracts are let and schemes are designed before the supply chain can get involved. We have lots of expertise to bring to the table on how to preserve the asset while improving productivity."