Sub story to feature: Issue 595 27 Apr 2012

Share this article:
The National Transport Model (NTM): time for a review?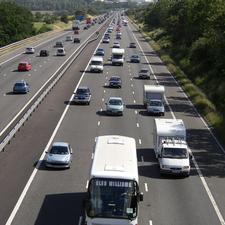 The National Transport Model provides a systematic means of comparing the consequences of alternative national transport policies, or widely-applied local transport policies, against background scenarios which take into account the major factors affecting future patterns of travel. The Department for Transport has recently been urged to review its NTM by a leading traffic expert who claimed the model's forecast of major road traffic growth in London is 'implausible'. As reported in LTT 593, the DfT's most recent central forecast, produced by the NTM, is for road traffic volumes in the capital to grow 43% between 2010 and 2035, reversing more than a decade of declining traffic levels. In his letter to LTT, Transport Planning Society chairman Keith Buchan said the forecast was 'now so far away from reality that there must be an urgent review of how this has come about'.
Transport for London's forecast, developed using its own suite of models, was for road traffic in the capital to grow by 10% between 2007 and 2031. 'Our forecasts are lower than the national figures because [our] strategy assumes a significant package of further public transport improvements, over and above those that are committed, and a revolution in walking and cycling,' said a TfL spokeswoman. This tallies with Phil Goodwin's 'peak car-related' suggestion that, as future generations will likely be less car-dependent, they will want and need cycle and walking facilities rather than vehicle infrastructure.
Keith Buchan's points are poignant, and will surely lead to vigorous debate when he explores these discrepancies in more detail at Modelling World. 'We are in the middle of major changes in travel demand that will be at least as important as the advent of the hatchback, the big supermarket, or the motorway network: high-speed broadband, video smartphones, internet shopping and internet-based business-to-business communication to name a few,' he says.
NTM growth is, says Buchan, driven by the idea that a 'saturation' level of car ownership will inevitably be achieved at some time in the future. That's why, whatever happens, the upward trend remorselessly returns. But this is no longer a realistic scenario. Forecasters need to understand that there is a parallel but equally important end state called equilibrium, says Buchan. 'These forecasts are used to underpin decisions on what transport infrastructure we build. And getting value for money, based on the best evidence, is what we need more than ever in this post-recession world.'
Keith Buchan will be speaking at Modelling World 2012. Find out more at www.ModellingWorld2012.com