Subscriptions : Local Transport Today
Local Transport Today 1 Year Add-on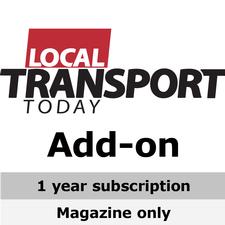 £60.00 out of stock
UK Delivery included

+£44.00 EU +£84.00 RoW
Local Transport Today
PRINT Subscription
Subscriptions ordered with a credit/debit card begin immediately. Subscriptions ordered via invoice do not begin until payment has been received. All subscriptions are payable in full in advance.
Magazine subscription

Subscription duration: 12 months
Equivalent to just £5 per month
Add a Local Transport Today annual subscription to your new or existing subscription.

Since 1989 Local Transport Today has been dedicated to providing detailed knowledge: essential to informed transport planning and project delivery.

Existing subscribers must have over 6 months remaining on their current subscription to qualify for this reduced rate add-on.





Standard subscription deals


£10 per month

£8 per month

£6.50 per month

Just £120 per year

Just £96 per year

Just £78 per year