Event/Conferences : Conference
Access & Activity | Local Authority/Small Business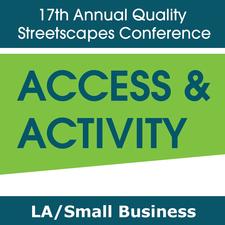 The confirmation email following a credit/debit card purchase is your ticket to this event.
All fees are payable in advance of the event. Delegates may be refused admission if payment is not received prior to the event.
If for any reason you are unable to attend, cancellations received in writing by 12/04/12 will receive a refund less an administrative charge of £100 + VAT. There will be no refunds for cancellations made after this date. Applicable promocodes must be redeemed at time of purchase.
26 April 2012 | London

By RUDI & Local Transport Today
£225.00 +VAT in stock
UK Delivery included


This event will explore:
how to create strong partnerships and positive management organisations to drive town centre growth, value and vitality

the range of powers, guidance and tools that can help town centres

how to use use available tools and processes effectively

the many creative approaches that local partnerships are already taking

ways of assessing need, particularly in the case of social and cultural uses gaps in knowledge and practice, and potential ways forward
Growth and value: an economic and delivery framework for place-making
Place economics: assessing need, place audits and evidence-based, town-centre focused business plans

Delivering a collective vision: techniques for capturing the economic performance of places

Finding the funding: policy aspirations and delivering place-based outcomes

Designing for delight: attractive and accessible centres
Convenient journeys: accessibility to, from and within town centres

Creating active, multi-functional hubs: delivering better transport-related outcomes

Towards 'destination' and the retail, business and leisure mix
Find out more on the official event page