Event/Conferences : Conference
The Future of Highways North – Local Authority, Additional Delegate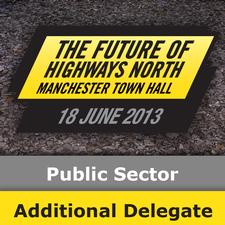 This place at the Future of Highways Delivery, is eligible public sector workers accompanying another local authority delegate.
The confirmation email following a credit/debit card purchase is your ticket to this event.
All fees are payable in advance of the event. Delegates may be refused admission if payment is not received prior to the event.
If for any reason you are unable to attend, cancellations received in writing by 04/06/13 will receive a refund less an administrative charge of £100 + VAT. There will be no refunds for cancellations made after this date. Applicable promocodes must be redeemed at time of purchase. *Promocodes must be redeemed at time of purchase. They cannot be applied to an order after an invoice has been generated or a credit/debit card processed.
18 June 2013 | Manchester Town Hall

By Local Transport Today
£95.00 +VAT in stock
UK Delivery included


The Future of Highways Delivery events provide a special focus on how highways services can improve customer responsiveness and meet the priorities of local areas at the same time as securing efficiency savings. There is a need for the industry to come together to decide how to meet these often competing pressures.
How to establish new collaborative alliances and standard contracts and specifications whilst ensuring services are customer-facing?

How to marry a coordinated asset management approach with localist budget- setting?

How to set service standards that have local ownership and make best use of resources?
These are just some of the vexed issues that will be tackled as we facilitate the industry search for answers to the question of how to re-think delivery.