Event/Conferences : Conference
Parking World 2011 | First Delegate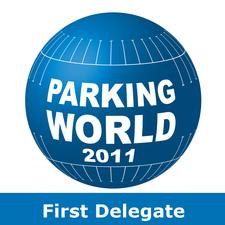 By booking a place at Parking World, you are eligible to bring additional delegates for just £149 + VAT each
The confirmation email following a credit/debit card purchase is your ticket to this event.
All fees are payable in advance of the event. Delegates may be refused admission if payment is not received prior to the event.
If for any reason you are unable to attend, cancellations received in writing by 15/11/11 will receive a refund less an administrative charge of £100 + VAT. There will be no refunds for cancellations made after this date. Applicable promocodes must be redeemed at time of purchase. *Promocodes must be redeemed at time of purchase. They cannot be applied to an order after an invoice has been generated or a credit/debit card processed.
29 Nov 2011 | Lords Cricket Ground, London

By Parking Review
£249.00 +VAT in stock
UK Delivery included


Parking World 2011 is the leading forum for public and private sector parking specialists working in both the on-street and off-street arenas.

This sector-defining event is built around a series of presentations and workshops which focus on issues of central importance to parking management and enforcement professionals, consultants, facilities owners, systems manufacturers and service suppliers.

Who should attend?

Parking enforcement managers

Parking management contractors

Local authority traffic managers

Police forces

Street-scene and community safety managers

Road safety specialists

Town centre managers

CCTV operations managers

Public transport operators

Debt recovery agencies

IT and enforcement hardware providers

Uniform suppliers

Business outsourcing suppliers

Notice processing bureaus