Books : Transportation
Transport Skills for the New Millennium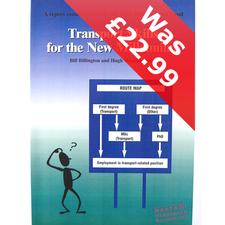 £16.50 in stock
UK Delivery included

+£2.00 EU +£5.00 RoW

Your order will be dispatched as soon as payment has been processed.
Paperback A4
ISBN/ISSN 978-1-899650-22-4
By
Good transport is vital to modern society. At the same time, the potential for conflict between mobility and environmental and other objectives is increasing. The development of new transport policies is raising the profile of transport studies and creating a demand for a new type of transport professional - in both the public and private sectors.
Meeting the demand must be addressed urgently if the targets for higher investment, integration, modal shift and congestion reduction proposed in the Governments's 10 Year Plan for Transport are to be achieved.
This report by two independent experts sets out the findings and conclusions of a study commissioned by the Rees Jeffreys Road Fund to look into current and future skill requirements for professionals in the transport field, and the actions necessary to ensure that they are met.
© Landor Publishing
Reduced to clear: Was £22.99