Rail News: Issue 362 28 May 2009

Share this article:
48-hour RMT tube strike over job cuts and pay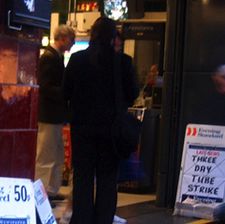 Meera Rambissoon
The RMT rail union has announced that it is to strike for 48 hours next month, after Tube and Transport for London workers voted in a clear majority as two separate disputes on job cuts, pay and working conditions.
On London Underground the result was 2810 for strike action and 488 against. On TfL the result was 75 in favour and 15 against. Separate ballots on action short of a strike showed even higher numbers in favour.
RMT have announced strike action which will commence at 18.59 hours on...