Bus News Lead Story: Issue 332 30 Jun 2008

Share this article:
First answers Megabus challenge in US with 'Bolt for a buck' rival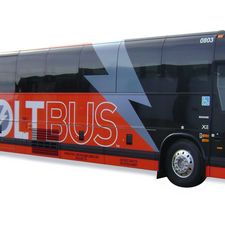 First has invested £7.5m in a fleet of 33 vehicles for BoltBus
By Robert Jack
First group has responded to competition from Stagecoach's Megabus.com coach service in the United States with the launch of its own rival BoltBus offering.
Centred on New York, the new Boltbus service aims to combine extremely low fares of just $1 with high quality service, including leather seats, extra leg room, free Wi-Fi and power outlets.
Aberdeen-based First became the main operator of inter-city coach services in North America last year when it acquired the iconic Greyhound...