Regular News: Issue 340 7 Jul 2008

Share this article:
Stagecoach bus profits up by £25m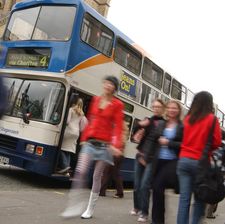 More people are using Stagecoach
High passenger growth has seen profits soar at Stagecoach's UK bus business, according to full year financial results published by the group last week.
Revenue from the Perth-based group's UK bus operations increased by 7.7% to £743.9m in the year to April 30, 2008. The operating profit leapt by 30.1% to reach £109.9m, an increase of £25.4m on the previous year. As a result the operating margin was 14.8% compared to 12.2% in 2007.
UK bus passenger volumes in the...