News Lead Story: Issue 228 14 Mar 2011

Share this article:
More articles like this...
awards, branding/marketing, car park design, charity, consultants, crime, customer service, cycles & bikes, debt recovery, disabled parking (blue badge), enforcement, local government, maintenance and cleaning, manufacturers, multi-storey, new car parks, performance, phone parking, residents, retail, safety, signs & lines, staff, technology, training and recruitment, Alpha Parking, APCOA, CP Plus, Equita, Imperial, Landor, Makers, Marston Group, Metric Parking, NCP, NSL, Parkeon, Parking Review, Project Centre, Q-Park, RingGo, VINCI Park, Approved operator scheme AOS, BPA, DfT, All of UK, East Anglia, East Midlands, East of England, England, Europe, Greater London, Ireland, Metropolitan Counties, North East England, North West England, Scotland, South East England, South of England, South West England, Wales, West Midlands, Yorkshire and Humber
Croydon wins big at British Parking Awards 2011
Parking celebrates excellence and achievement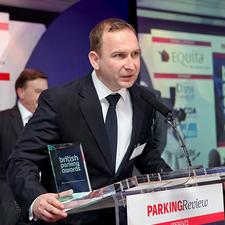 Mirsad Bakalovic, head of parking at Croydon, with the Overall Award
Mark Moran
The London Borough of Croydon's Parking Services team walked away with the Equita Overall Award and two other trophies at the British Parking Awards ceremony, held in London on Friday 11 March.

The south London council was also named Parking Team of the Year and won the Customer Service Award in the annual competition organised by Parking Review magazine and sponsored by debt recovery specialist Equita. The judges felt that under the leadership of Mirsad Bakalovic, Croydon Parking Services has been transformed into an effective public service operation working across a wide range of fronts, as evidenced by its appearance on so many of this year's short lists.

A sell-out audience of over 520 people gathered to hear Hugh Dennis, star of Outnumbered and Mock the Week, reveal which of the 80 entrants to the 2011 awards had secured the much coveted cut glass trophies.

Introducing the presentations, Equita sales & marketing director Paul Sharpe, said: "The overall quality of the submissions has improved. Not only in terms of presentation, but in the effort made to tell interesting stories and communicate the fact that there are people behind each entry. A car park is not just a building. An enforcement operation is not just the number of tickets issues, the number of appeals won and lost. These are the work of real people – the people in this room."
The first winners were National Car Parks and Bolton Metropolitan Borough Council, whose Topp Way multi-storey was named Best New Car Park. This category also saw Q-Park highly commended for its new Rockingham Street multi-storey in Sheffield.

Croydon beat off strong competition from the likes of Empark's Stansted Airport team to hold on to the Customer Service Award for a second year.

The new South Winchester Park & Ride scheme from Hampshire County Council and Winchester City Council was judged to the best Environment Award entry.

The Living Streets Award, which recognises projects in which parking forms a crucial element of the urban street-scene, was won by Southwark Council and The Project Centre for transforming Rye Lane in Peckham, a scheme which built on their 2010 award-winning Walworth Road entry.

The Parking in the Community award was won by Aberdeen City Council, for the way in which it has created a city warden team able to help enforce parking and environmental rules within local neighbourhoods. The £1 P&R shuttle bus scheme run at Land Securities' Cabot Circus shopping mall for people visiting Bristol Royal Infirmary was commended. Also competing was Rock Around the Bard, an arts project sponsored by Imperial Civil Enforcement Solutions, Newlyn and Liberty Services which allows gifted young people from Bristol to work with professional musicians to create a work performed at the Thornbury Arts Festival.

Cobalt Telephone Technologies won the Marketing Award for its three-year approach to building up client and public awareness of the RingGo phone parking system. NCP was commended for its multi-media campaign to reposition this famous parking brand as a custoner-friendly experience.

The new Young Parking Professional of the Year was Ashley Brandon, leader of Lambeth's Parking Fraud Investigations Team. The future for parking in the UK seems to be bright judging by the achievements of the talented line-up for this award, which included Croydon's Zakki Guari, Land Securities' Fraser Jones and Slough's Melissa Payne.

There were joint winners in the Best Refurbishment category. Brighton & Hove City Council and VolkerLaser were rewarded for transforming The Lanes underground car park, while Q-Park was lauded for its reinvention of the Sauchiehall car park in Glasgow. Makers Construction was commended for its work in saving the Gascoyne Way car park in Hertford.

The Innovation Award went to London's Partners in Parking (PiP) Mystery Shopping Portal. This example of joint working between boroughs has created an online forum which enables suitably trained parking managers to peer review each other's call centre, correspondence and other services. There was strong competition for this award from Parkeon for ParkingPal and Parkmobile for its smartphone parking app.

There were two top trophies in the Enforcement Award. The judges gave kudos to civil enforcement agency Marston for its ethical approach to debt recovery on the Isle of Wight, a project which has seen it work closely with community groups and the Citizens Advice Bureau. There was also a trophy for the London Borough of Hounslow and NSL Services team which implemented a CCTV system that provides parking enforcement, crime prevention and public safety coverage.

To win the Parking Team of the Year trophy Croydon had to compete against strong bids by Brighton & Hove, Empark, Shropshire and an off-street partnership covering several Lancashire councils and involving private sector partners such as Chipside and Legion Parking.

The most popular awards recipient on the day was Cherelle Lander, an NSL civil enforcement officer working for Westminster City Council who was named Parking Person of the Year. A constant round of applause accompanied her to the stage to collect a trophy in recognition of her work in explaining the importance of parking enforcement to a wide range of TV and newspaper media. One of her biggest challenges was teaching former cricketer Phil Tufnell how to be a CEO on BBC's One Show.
With 2012 marking the tenth anniversary of the awards, a special Best of the Best Award was created for this year's event. This award recognised the previous Equita Overall Winner whose work has had both the most impact and legacy on the sector. The winner was parking operator Q-Park. The judges felt the company's customer focussed service and commitment to creating attractive and safe parking environments has been a real game changer for the parking sector.

The judges stated: "Q-Park is a parking operator whose commitment to both service and creating attractive car parks has raised the bar for the sector as a whole. They won their Overall Award in 2004 and today are still innovating and setting the pace."
The 2011 awards marked not just the first decade of celebrated excellence, but have set the scene for another decade of pushing the boundaries in what it means to deliver exceptional parking services.
Winners: British Parking Awards 2011
Equita Overall Winner
Croydon Parking Services
Presented to the best category winner of 2011


Best of the Best Award
Q-Park
Presented to the best Overall Winner between 2002 and 2010 to celebrate a decade of the British Parking Awards
Best New Car Park
NCP & Bolton MBC Partnership: Topp Way, Bolton
The Safer Parking Scheme Best Refurbishment Award
JOINT WINNER: Brighton & Hove City Council & VolkerLaser: The Lanes, Brighton
JOINT WINNER: Q-Park: Sauchiehall Street, Glasgow
APCOA Living Streets Award
Southwark Council & Project Centre: Transforming Rye Lane
The Alpha Parking Exceptional Customer Service Award
Croydon Parking Services
Parking in the Community
Aberdeen City Councils: Aberdeen City Wardens
The Enforcement Award
JOINT WINNER: London Borough of Hounslow & NSL Services: CCTV team
JOINT WINNER: Marston Group: A model of excellence for ethical debt enforcement
The Environment Award
Winchester City Council & Hampshire County Council: South Winchester Park & Ride
The SIX Card Solutions Innovation Award
Partners in Parking: Mystery Shopping Portal
The Marketing Award
Cobalt Telephone Technologies: Against the odds – from underdog to brand winner
The RingGo Parking Person of the Year
Cherelle Lander, civil enforcement officer, NSL Services, City of Westminster
Young Parking Professional Award
Ashley Brandon, parking fraud investigation officer, London Borough of Lambeth
The Creative Parking Solutions Parking Team of the Year
Croydon Parking Services
Shortlist at
www.britishparkingawards.co.uk