Feature: Issue Issue 29 11 Jun 2012

Share this article:
Expert views set agenda for key event on future transport systems
Some critical issues will be under the spotlight at the 3rd Travel annual 2020 exhibition and conference on 10-11th October. Peter Stonham introduces the programme.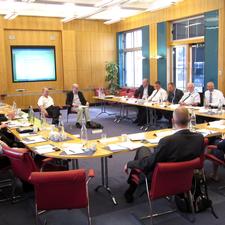 Discussion at the first 2020 Spring Round Table focussed on the future of passenger information
Peter Stonham
In depth discussions with industry experts are guiding the programme for this year's major Travel 2020 exhibition and conference which will take place on the 10th & 11th October 2012 at Kia Oval, London.
The issues they identify in the seven major topic areas being addressed by the event are setting the scene for two days of wide ranging discussion about the future of passenger transport service and systems development. The event is led by New Transit and partners RTiG INFORM with the support of a range of major industry players, as indicated in the panel below.
Top expert speakers will address the major seminar sessions on topics addressing technological customer service, product and management issues affecting the way in which passenger transport services are planned and delivered, and opportunities explored for new offers and enhanced relationships with users.
Seminar topics will be informed by our Travel 2020 Spring Expert Round Tables, the first of which began with a morning's discussion on passenger information.
It was attended by 20 industry leaders representing innovative system suppliers, advisors and specifiers of leading edge applications that are harnessing the latest digital technologies and creative data collection and presentation approaches.
In addition to information, other key themes at the event will be transactions and payment systems and customer relationship management approaches which are the subject of further round tables in the next few weeks. For details see the advertisment on page 4.
Visitors to the main Travel 2020 event will have the ability to select from some 60 top expert speakers. Alongside the themed seminars there will be two major plenary sessions with high level scene setting addresses and discussion at the beginning of each day. A?number of big name key note speakers have been invited.
Alongside the conference and exhibition comprising an expanded number of 70 stands, there will be meetings of specialist groups outside the main conference. During the two days these meetings will include the Ten Percent Club, Carplus, RTiG, and other specialists in travel information and combined mobility. Well over 200 delegates are expected for the conference, and more than 800 individual visitors to the exhibition.
For further information or to be involved with us in the roundtables and the main event contact Jane Caley.

Email: jane.caley@landor.co.uk
Tel: 01424 711914
The following themes will be explored over the two day event:-
Payments Technology – will travel lead the NFC mobile phone transactions revolution? When bank card payments arrive, is there still a role for the operator smartcard?

Information – the knowledge that guides travel decision making. Who will supply it?

How will it be received by customers? Where is it all heading?

Customer Relationship Management and loyalty in travel – connecting with the audience and building understanding with individual users.

Pricing, Yield Management and Capacity Optimization – optimising revenue, addressing Market niches and enhancing the sales offer for travel.

The Journey Experience – terminals, interchanges and the on-vehicle environment.

Service & Systems Design and management – harnessing the benefits of data-driven decision-making to improve services and operational quality control.

Multi-Modal Offer and Combined Mobility – linking up public transport interfacing with new attitudes to car ownership and use
Travel 2020 exhibition and conference