News extra: Issue 595 27 Apr 2012

Share this article:
Councils urged to shift funds from worst roads and quick fixes to preventative repairs
The Potholes Review recommends that prevention is better than cure with a final report that challenges highways departments to transfer funds to preventative treatments in order to benefit all road users. Will political leaders find this a bitter pill to swallow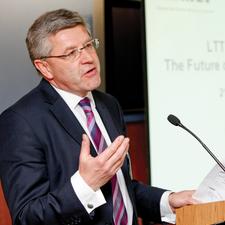 Matthew Lugg
Lee Baker
Potholes have risen up the political agenda. The Department for Transport ordered a review into the persistent problem. This presented an opportunity for local highway authorities to make the case for additional investment to maintain the networks that motorists, bus users, cyclists and pedestrians rely on.
However, the final report of the Potholes Review ordered by the minister for local transport Norman Baker emphasises the wastefulness of highways authorities' current approaches to protecting and repairing highways and footways. Reform, rather than money, is the order of the day – although the confirmation of allocations for the next three years has been welcomed.
The review, led by Matthew Lugg, seconded to the Department for Transport, concludes that "available resources have not always been used in an effective manner". The report highlights "concern as to whether asset management principles have been widely adopted to ensure the efficient use of resources and better outcomes for highway users".
The review recommends a switch away from focusing funds on either structural maintenance of roads that have failed or on reactive maintenance to repair defects. Instead, it urges highways services to prioritise preventative maintenance, treatments applied to highways with some remaining service life such as surface dressing, slurry or micro-surfacing or thin and hot-mix asphalt overlay.
Following this advice will require local leadership, the report acknowledges, given that "a greater move to preventative maintenance may result in those sections of the network in worst condition deteriorating even further". However, it highlights that preventative maintenance costs less, so a larger proportion of a network can be treated and improving overall network condition.
A spokesman for the Highway Term Maintenance Association highlighted the challenge of this. "A political view will tend take a short-term view of what is felt to be best for the interests of councillors' constituents as opposed to a long-term view on what is best for the asset." The review acknowledges that residents will, if anything, want more reactive repairs, not fewer. It says cyclists find potholes 20mm or bigger a problem, whereas most highway authorities have a policy to fix defects that are 40mm or larger in size.
Lugg appreciates that the recommendation will require brave local politicians, which is why copies of the final report of the review were emailed to the political leaders of highway authorities before hard copies were sent to highway departments.
"I hope that the cabinet members and the heads of service can sit down and have an informed discussion about how maintenance budgets are spent in future," he says. He says that even if the local political priority was to remain reactive maintenance, "the available money can still be used to better effect".
As such, the review advocates reviewing service levels of reactive maintenance services in order to "strike a balance between the need for immediate pothole repairs to ensure the safety of all highway users, and 'right first time' solutions that provide better value for money".
Most highway authorities continue to work to the response times in the code of practice Well-maintained Highways, it notes, although some have extended response times to "reduce the need for temporary repairs" and make first-time permanent repairs.
Money has been wasted by highway authorities, agrees Tony Ciaburro, director of environment, development and transport at Northamptonshire County Council. "Unless you change the approach, you have an endless cycle of temporary repairs: a temporary repair of a temporary repair. I am pleased that we are finally seeing a move away from the official advice that 'hurry up and fill in the pothole' is the be all and end all."
Northamptonshire reviewed its service levels in 2010/11 and decided to increase the response period for safety defects from 24 hours to five days with most defects repaired on a semi-permanent basis (LTT 23 Sept 11). The review's final report notes that the rate of network deterioration in the county is now beginning to slow following what was initially a controversial decision.
Ciaburro says: "We questioned what was so magical about the 24-hour deadline. We worked out how we could achieve permanent repairs in good time given the resourcing we had." He cautions against fresh prescriptive advice to highway authorities being issued in a revised Well-maintained Highways which the DfT is reviewing. "It should be for local authorities to decide how to strike the balance between reducing temporary repairs and responding in a reasonable amount of time."
The review's final report does underline that "it is for each local highway authority to determine its approach to repair". The HTMA spokesman is confident that a better balance can be struck. "It is possible to strike a balance between politicians wanting all the money to go on fixing potholes immediately and the purist engineering view that it is best to rebuild the 5% of the network that has failed."
The report does not only advise reform to make existing budgets go further, however. One of the key recommendations is that the DfT should help to strengthen the case for additional investment in the service.
While the recommendation is explicitly aimed at local decison-makers, Lugg stresses: "In the bun fight for Treasury funding, being armed with information on the impacts of investing in the service will be very helpful to the DfT."
Discuss this in more detail at LTT's Future of Highways Delivery Event