Regular news: Issue 594 13 Apr 2012

Share this article:
Transport projects to benefit from York's new £30m economy fund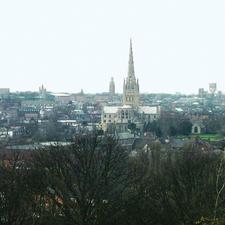 Norwich: developer cash could help fund road
Transport projects in York are to receive a share of a £28.5m five-year economic infrastructure fund being set up by the city council.
The Labour-controlled council will use £20m of prudential borrowing and £8.5m of anticipated New Homes Bonus to fund infrastructure and studies.
The council has already earmarked £2.5m of the funding for the Access York Phase 1 project to increase capacity on the city's park-and-ride services. New sites at Askham Bar and Poppleton Bar should be open by Easter 2014 subject to final approval of the DfT's £15.3m contribution to the £21.9m project.
A further £2m will complement the DfT's Better Bus Area award last month. This will deliver a bus priority spine through the city centre; a network of city centre interchanges; a smart ticketing scheme (with the back office provided by Metro); and a marketing strategy.
The fund is also likely to pay for feasibility studies of: a new interchange at the city's rail station; the Access York Phase 2 project to upgrade roundabouts on the outer ring road and measures to cut central area traffic; and a new rail station at the former British Sugar factory site on the northern outskirts of York.
Katie Stewart, York's head of economic development, said the fund could also support studies of "public transport improvements to support the Quality Bus Contract", freight transhipment, and further expansion of park-and-ride.
Asked about the bus QC proposal, Dave Merrett, York's cabinet member for city strategy, told LTT Labour had pledged to introduce a QC scheme in the local elections last year. Just how committed the party is to QCs is unclear. Merrett said he was hoping to get there in a "reasonably co-operative way" and wanted bus services to offer a single network, with 'smart' multi-operator ticketing and a network that delivered a 'step change' for passengers. "We are aiming for a Quality Contract by the end of this process," he said.
He said operators had agreed to launch a paper-based multi-operator ticket for travel within the city council boundaries but the pricing was "not what it should be". The £5 day ticket compares with £3.70 for a day ticket on First buses, the city's biggest operator. "I can't see at £5 a day there is going to be significant take-up," he said. "The operators will have to move on that in due course."
Discuss this and more at LTT's Future of Highways Delivery North event on the 27 June.